Exactly one year ago Sparkle moved to a new server. That was great but Sparkle has outgrown it and now it's time for a new one.
The new server is much more powerful with 16x more processors, each of which is 36% faster than the original, and 32x more memory. It's also located in Europe (near Frankfurt) rather than in U.S., saving most of our customers a round trip across the Atlantic on every web request.
All in all Sparkle should feel faster. To prove it, here's a chart showing Sparkle's response time: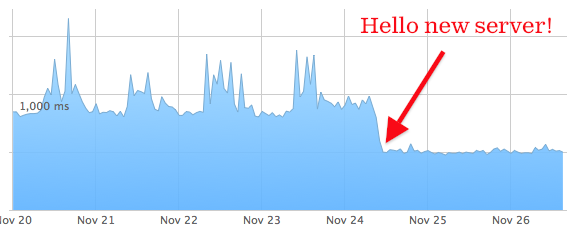 Being on the new server should also eliminate the intermittent, minor glitches that have been cropping up recently.
The need for speed
Having lots of spare capacity on the new server opens up many opportunities for making Sparkle faster still. You can see in the chart above the average response time is half a second. I see no reason why that can't come down to a quarter of a second, which would make Sparkle feel even nicer to use.
I firmly believe speed is a feature that people will always want, so it will forever remain on my to-do list alongside all the other "business-level" features.
Climate friendly
Sparkle is now powered exclusively by renewable energy, in particular hydroelectric. Its data centre won an award from the German government in 2011 for energy efficiency.
The climate is vital and I was delighted when I realised that the best server I could find for Sparkle is powered in the most climate friendly way.
Web-based software
I said this last time and it's still true:
"This is a great example of why using web-based software is so good: you didn't have to worry about any of this.
I took care of it all -- specifying a new server, commissioning it, configuring it, moving the code, moving your data, updating the DNS, updating the backups, testing it, etc etc. And there it was waiting for you on Monday morning!"
Enjoy!