Sparkle launched just over four years ago, right around the Beijing Olympics. Now the London Olympics have been and gone, it's interesting to look back at how much has changed.
Facts and figures
First of all, here's a chart of the number of customers (agencies not individual people) using Sparkle. The x-axis runs from July 2008 to August 2012.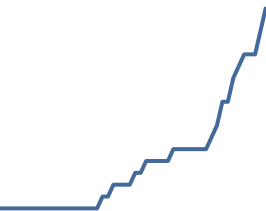 Happily the graph is going in the right direction: up!
Sparkle's raison d'être, of course, is to track sample loans. The following table shows the number of loans is more than doubling each year. Again, a good sign!
| Year ending | Cumulative number of loans |
| --- | --- |
| 13 August 2009 | 14,432 |
| 13 August 2010 | 30,782 |
| 13 August 2011 | 72,898 |
| 13 August 2012 | 172,229 |
And for those who like pictures, here's the chart: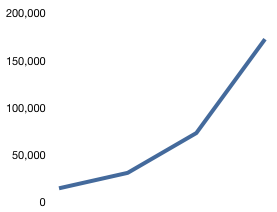 Of course for you to track samples with Sparkle, it has to be available. Here is how I'm doing at keeping Sparkle up and raring to go:
| Year ending | Downtime (bad) | Uptime (good) |
| --- | --- | --- |
| 13 August 2009 | 2h 56m | 99.87% |
| 13 August 2010 | 2h 04m | 99.98% |
| 13 August 2011 | 6h 01m | 99.93% |
| 13 August 2012 | 9h 46m | 99.89% |
The final row doesn't tell the full story. Most of the past year's downtime happened during the second half of 2011. I realised this was happening at the time, and early in 2012 replaced Sparkle's web server and application servers with better alternatives (in fact, the best).
Over the past six months, Sparkle has had just 29m of downtime — an availibility of 99.99%. Yay!
What's been happening over the past year?
New things! The past year saw improved or new sample labels, delivery notes, sample imagery, reports, and stylists — among many other smaller changes. I have a long list (over 100!) of new ways Sparkle can save you time and help you do your job like the heroes and heroines you are.
Sparkle also got securer and stabler. I spent a lot of time upgrading and replacing infrastructure so Sparkle remains available and fast even as it handles more data. I have another server move planned soon which should speed up the site noticeably for most customers.
I was lucky enough to attend the last two German Press Days (SS12 and AW12) where I met lots of great people — who gave me much helpful feedback. I have come to appreciate German directness ;)
And Sparkle gained its first customers in Beverly Hills, Manhattan, Hamburg, Munich, and Glasgow. Future business trips are looking quite appealing.
I really enjoy running Sparkle and especially hearing from people using Sparkle. Thank you for all the great comments over the past year!