Many showrooms make both "editorial" sample loans, free of charge, and commercial sample loans where the person borrowing the samples pays a rental charge. Typically this is a percentage of the retail or wholesale price.
You can now charge people's credit cards directly in Sparkle when they pull samples from your showroom. Sparkle calculates the rental charge, lets you offer a discount, and charges the credit card right there.
This makes it much easier for you to generate a new revenue stream from your samples – always a good idea!
Getting started with sample rentals
Before you charge your first credit card, you need to do a one-off task: tell Sparkle where to send the money from the rental charges:
Go the Settings page and click on the Sample Rentals tab.
Click the big, blue button to connect your Sparkle account with Stripe. Stripe is the best way to accept payments online, and the blue button lets you set up a Stripe account quickly and easily (or sign into your Stripe account if you already have one).
Stripe will then ask whether Sparkle can take credit card payments and put them in your account: say yes please.
If all goes well you'll end up back on the Sample Rentals tab. You can then set your rental fee as a percentage of your samples' retail or wholesale prices.
Charging your first rental fee
Go through the normal check-out process with the samples you want to rent out. When you reach the story overview page, click 'charge a fee' in the Rental fee section (below the 'Checked out/in by' lines).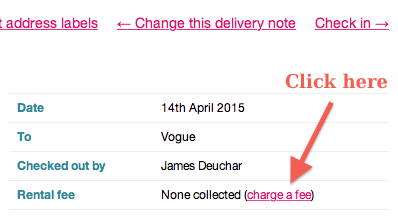 The rental page shows you the rental fee for each sample and a subtotal. You can also set an optional discount. When you're ready, click the blue 'Pay with Card' button. This pops up a payment form where you enter your contact's credit card details and charge the card.
Sparkle saves all the rental details so you can always go back later on to see the total charged and how that amount was calculated.
What are the processing fees?
There's an admin fee of 5% on each card transaction, which includes all Stripe's fees.
Conclusion
We are excited about sample rentals, or commercial sample loans, because it's an excellent way for showrooms to make more money from their samples.
And we are excited about Sparkle handling sample rentals directly because it makes it much simpler and faster for you to accept those credit card payments.