Sparkle is a sample tracking system for Fashion PR. But what kind of system is it? Just as Nike and Manolo Blahnik both make shoes, but completely different shoes, all sample tracking systems differ. You want to make sure you get the one that works for you.
So what's Sparkle about?
We have three principles which guide everything we do:
Sparkle is the easiest sample tracking system for Fashion PR.
Sparkle is the most trustworthy and open sample tracking system.
Sparkle helps our customers manage their samples brilliantly.
That last one is the most important. We want Sparkle to make you look good when you're looking after your samples and collections.
The easiest sample tracking system in Fashion PR
Life is already complicated. Why make it worse? We want Sparkle to be the part of your day which is always easy: easy to use, easy to understand, easy on the eye.
This guides everything. Before you even start using Sparkle, for example, you want to know how much it will cost. Other systems charge per user so every time you add a team member, the total price you pay changes. Complicated. Sparkle just has a single, all-in, flat-rate price. Easy.
Here's another example: let's say you want to check in a sample which a courier has just dropped off. You can see the check-in screen below.

When you go to the check-in screen the cursor is put in the code field automatically, so all you do is scan the sample's barcode (or type it's code by hand) and it's checked in. Easy.
The most trustworthy and open sample tracking system
There are two parts to this: Sparkle itself, and the people running Sparkle.
Sparkle is a system you can trust because it is reliable, it is resilient, and it is available. Reliable means it doesn't report that a sample is simultaneously in your showroom and out at a client. Resilient means we back up your data and Sparkle's code nightly, so we can always keep the show on the road. And available means you can count on Sparkle at all times. You can trust Sparkle to look after your samples.

On the people side, I'm Andy Stewart, the boss at Sparkle HQ.
Feel free to email me at any time and ask me whatever you like — about Sparkle, the people behind it, how the barcodes work, anything. We're not secretive. In fact we're as open as possible about the way we do business.
Help our customers manage their samples brilliantly
At the end of the day, this is all that matters. We want you, our customers, to manage your samples amazingly well. We want you to be seriously capable and competent with your samples. To handle the high workloads around press days without any stress. To have Sparkle prevent you from making mistakes, no matter how much is distracting you in the office. And to know exactly what's going on with your samples all the time.
So Sparkle has all sorts of reports and audit trails to keep track of everything. The Dashboard, for example, shows you how busy you've been this week and how busy you'll probably be over the next couple of days. You can click through any of the figures to see exactly which samples are involved, where they are, which stories they're on, and so on.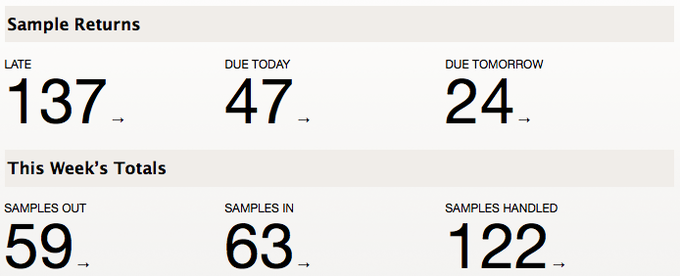 We want you to be great at your job. We want you to sparkle!