You can now choose which language Sparkle produces your delivery notes in. You can have Sparkle always use a particular language, or you can have Sparkle automatically choose the best language for your recipient.
So if you send samples to Vogue in London or New York, Sparkle will produce an English delivery note. And if you send samples to Vogue Deutschland, Sparkle will produce a German Lieferschein.
This makes things much easier for your German-speaking magazine editors and fashion assistants!
How to set the language
Go to the Settings page and scroll down to the Delivery Notes section. The first option is language: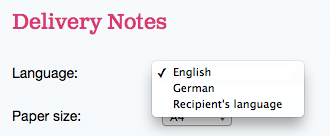 Choose the option you want and save. That's all you need to do: Sparkle will take care of the rest.
Which languages are supported?
Currently Sparkle supports English and German. We're very happy to add other languages – please let us know which you need, especially if you are a native speaker :)