Everybody has a few clients who, while much appreciated, sometimes make requests which take a lot of time to fulfil. Often this is, "Please can you tell me where all my samples are right now?"
Although Sparkle has several reports which make it easy to answer this question, you still need to stop what you're doing, run the reports, export them, attach them to an email, and write a charming message for your dear client.
A better way: self-service
Instead of running around in circles for your clients, let them satisfy their curiosity themselves. Here's how.
Look up your client in Sparkle. On the Contact Info tab, choose which person you'll let access Sparkle. In the screenshot we're giving Katha Hirt access.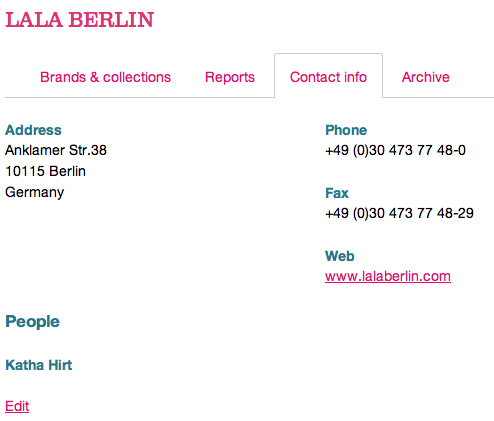 Now edit your client person and, in the last section, you can tick the box "External access?".

On the client page you can now see that your person can sign in to Sparkle.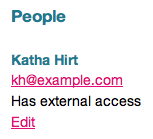 But...they need a username and password. So go the person's edit page and, in the links on the right, you'll see "Send sign-in instructions." Click that and Sparkle will email them with a link where they can set their own username and password.

What exactly does my client see?
Your client sees a list of their collections showing the numbers of samples out to press, in the showroom, and returned to the client. The numbers of lost and gifted samples aren't shown.
Your client can click on any collection to see a list of all its samples. Each sample shows the numbers of times it was loaned and its current whereabouts.
To see for yourself, go to your client person's edit page and click "Sign in as Jane Smith". Sparkle will sign you in as them so you can see exactly what your client would see. To sign in as yourself again, you'll first need to sign out (as your client).
How to cancel a client's access?
It's easy: go to the person's edit page and untick the "External access?" box.
Finally
I hope this makes your clients happier while also saving you time! Win-win.